Morgan Caillaux
I met Lev during a tournament in France. I was very impressed with his level, his ball striking and his short game which already makes him a world elite amateur player. In addition to his technical qualities and his certain gift for this sport. Lev is already very Pro in his technical, physical and mental preparation. His maturity, his thirst for victory, and his fighting spirit make him a real competitor. at 15 Lev is already charismatic. Lev is a very endearing young man, he gives off positive vibes and his strict education has allowed him to acquire real human and sporting values. He knows he can count on me to help him take the different steps towards his final goal!
Bill Nelson
Mental Performance Coach
I began working with Lev two years ago while he was attending a golf academy here in Orlando. Like many elite juniors, Lev had a plan for the technical side of his game but didn't have a plan for his mental game. At our first meeting, I could see that he was serious about learning the mental skills he needed to take his game to the next level. I also could see that he had a real love for the game, which is so critical for the long-term development of a player. <strong>We put together a step-by-step plan that included: improving his decision-making ability, helping him deal with adversity during tournament rounds, and giving him some tools to create solid daily habits. He is an eager student and soaked up the information quickly. Lev set himself apart from other juniors because he not only took in the training but actually used it in competition to improve his performance.</strong> The results have been outstanding. He qualified for US Open sectionals, made the cut in a full-field European Tour event, won many junior golf events, and is currently one of the top players in the world for his age. Finally, he is not only an elite golfer but also a great young man. He has a really fun personality and a great presence about him. I know he has an exciting future ahead of him in golf, and I look forward to being a part of all of his accomplishments."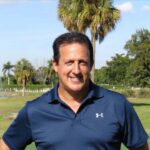 Barry Goldstein
Golf teacher - Top 25 of the world
I have been Lev's golf coach and teacher since January of 2020. What a great kid, and a great golfer. This young man emailed me telling me he was a highly ranked junior golfer who had just turned 12 and he felt with my coaching he could be ranked number 1 in the world. In his first lesson, I took him out on hole 1 at Inverrary East Course in Ft Lauderdale, a PGA Tour course, and this confident kid pipes a bomb down the middle, knocks it on the green, and makes a routine par. Knew he was special immediately. I have taught PGA Tour winners... many Division 1 college stars. Saw Lev's gift immediately...and he became the number one ranked 12-year-old in the world soon after. Lev has proceeded to improve and his work ethic is second to none. At 13 he became the youngest male ever to get past stage one of US Open Qualifying...and at 14 he became the 2nd youngest player ever to make the cut on the European Tour. Was I surprised? NO!!! Mildy at best. Lev has everything it takes to continue his golf journey and WIN at the highest level. When I asked Lev his goals at age 12 he looked at me and sincerely told me "I want to break Tiger and Sam Snead's record for most wins on the PGA Tour and Jack Nicklaus' record for majors"....Loved that answer. Lev is very talented, very confident, and honestly VERY driven. I love being his golf teacher, golf coach, mentor, and friend! Lev is special...watch him play and watch him practice and it's clear he is very much on a career path to greatness. I try to keep him balanced in life and golf and want Lev to be surrounded by positive energy. His dad and he have spent many years working towards Lev's golf goals. In my professional opinion, Lev is the best junior golfer I have ever seen. That's saying a lot as my daughter Carly Ray was a highly decorated junior golf star who dominated as a junior golfer. Lev in my eyes has EVERYTHING to continue to play and win against the best players in the world. Nothing Lev does surprises me as I told him he was the best 12-year olf golfer in the world when he was 12. As he ages and matures, I see only more and more success for Lev, and nothing he does will surprise me as I know how great he is on the course. Love Lev and I see his future as so bright and greatness ahead!